VVR Ranch - Décembre 2009
Blue Girl King est arrivée des USA en décembre 2009 à VVR RANCH.
Cela faisait des années que j'attendais que sa propriétaire se décide à la vendre.
Blue Girl King est une jument exceptionnelle et unique en Europe. Tout d'abord, elle est une pure "King" et est deux fois arrière petite fille de CONTINENTAL KING, fils de légende de King P-234 et l'arrière petite-fille de ESTER GENTLEMAN, lui-même cheval de légende.
Ensuite, ce qui n'est pas commun dans ces lignées est sa couleur BLUE ROAN, très rarement présente dans les lignées King ou Continental King où le noir, bai ou dun sont des couleurs qui prédominent.
CONTINENTAL KING 100% fondation H-0/P-72.5, NRHA Hall Of Fame (1988) (Reining(69.0/ROM/SUPR), WCH(2.0), & (WPl.1.5) NCHA $990.34, COA Breeder: Ted Clymer, Hudson, WI. Owner: Continental Ranch, La Crosse, WI. sire of Supr.perf/ROM Arena/NCHA & NRHA money earners/Pro.Dghts. Outstanding Offspring: Continental Ace, 50.0 perf.pts.(82` O SUPR. RN)Continental Buff(69.0 perf.pts./1975 Y SUPR. RNContinental Nancy(83.0 perf.pts/1987 O SUPR. RN/1987 O HI PT RN)Continental Pistol, 205.0 perf.pts.SUPR.RN(2xs)/1989 HI PT WCH
King Of Four Mac(124.0 perf.pts/ 1990 O SUPR.RN). 72.5 AQHA Performance Points National Cutting Horse Money Earner 1966 Open Superior Reining 1964 Open Performance Register of Merit

EASTER GENTLEMAN, 75 on NRHA Leading sires list Easter Gentleman with $210,654.29 in NRHA Get earnings with NRHA Foals 39 who have an average earnings of $5,401.39 as 8/08 Stallion Offspring Record NRHA Open Futurity Champion 1990 NRHA N/P Futurity Champion 1990 NRHA L/O Futurity Res Champion 1990 Record holder for most Championships won in a single futurity year with only three get entered, Record still holding as of 2008 NRHA Futurity. Multiple Solid Gold Futurity Champions Mulitple Congress Champions Multiiple NRHA Super Stakes Champions Multiple NRHA Derby Champions Multiple Affiliated Futurity Champions Debeaued his NRHA get at age 18 in 1988 ROM & World Championship Performance ProducingGet,NCHA,NRHA,NRCHA,ARHA,NBHA,


Blue Girl King n'est pas seulement une jument au pédigrée exceptionnel, c'est également une jument intelligente, au grand cœur, très douce et toujours à la recherche de câlins!
Blue Girl King est la perle bleue de VVR RANCH.
Un heureux événement est attendu pour le 20 mai 2010 avec la naissance du premier bb bleu à VVR RANCH, à suivre!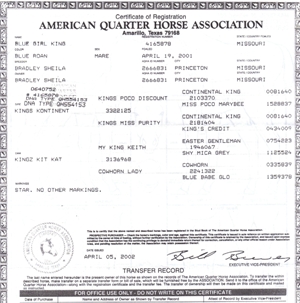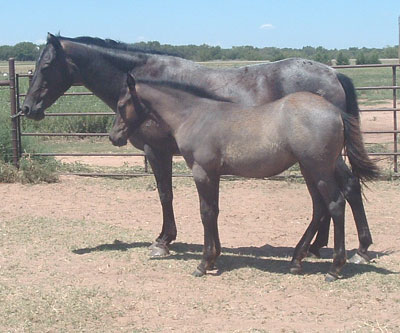 BLUEGIRL et ses poulains - USA
Blue Girl King a été saillie par Zach Blue, étalon AQHA blue roan HOMOZYGOTE BLACK et ROAN, 98 % FQHR fondation, en juin 2009.
Magnifique poulain FONDATION blue roan garanti attendu pour mai 2010.
LIGNEES UNIQUES EN EUROPE "CONTINENTAL KING X BLUE VALENTINE"